It could have happened to any of us."
After losing their 2-year-old son Lane to an alligator attack at Disney, Melissa & Matt Graves have received a huge amount of criticism online.
On top of having to grieve the tragic loss of their baby boy, the Graves are also being forced to put up with cruel remarks blaming and shaming them for not being better parents.

Kathy Rae Photography
However, after Facebook user Jennifer Venditti posted an eye-opening account of her son standing in the exact same spot of the alligator attack just 30 minutes before it happened, other moms have started to rally in support of the Graves in the same fashion.

Mothers across America are sending the message "That could've been us" by sharing similar photographs of their very own tots playing in the same location at Walt Disney's Grand Floridian Resort.
Janice Croze shared on Facebook, "If anyone wants to judge those parents for letting their toddler play near the water at Disney World, here is Olivia playing on that beach. There were tons of children and adults wading at the water's edge. Never did any of us think there was any danger at all! This is a bizarre, horrific accident. That family deserves our prayers and empathy. It could have been any of our children. #Disney #Alligator#StopJudgingParents #accidentshappen"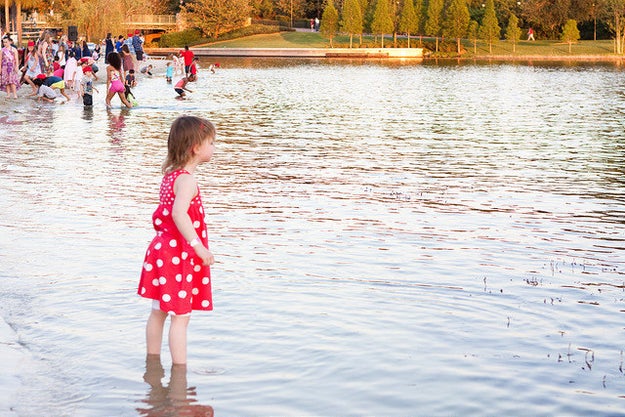 Photo: Janice Croze/5minutesformom.com
In her blog Sippy Cup Mom, Melissa Mitchell wrote,It could have been me, because Im not a perfect parent.
We stayed at The Grand Floridian Resortand [my son] played on that very beach, she added. Yes, there are no swimming signs and he didnt go into the water. He COULD havehes a toddler and we all know how fast toddlers are. But he was right at the waters edge like Im sure hundreds if not thousands of people do at Walt Disney World each year.

Photo: Melissa Mitchell/sippycupmom.com
Its easy to throw other parents under the bus when something terrible happens because we want to believe ourselves better," Kristen Howerton shared on Facebook along with this photo of her girls. "We want to comfort ourselves with the idea that our superior parenting could prevent a tragedy; that bad things could only befall an incompetent parent. But the truth is, bad things happen to good parents, and they deserve our empathy, not our judgement. Kristen Howerton/Facebook: RageAgainstTheMinivan
My heart breaks for the Graves family. It could have happened to any of us, Jeannette Kapluntold Buzzfeed. Jeannette Kaplun/jeannettekaplun.com
And mother of fourboys, Melissa Fenton, sent a powerful message to "perfect parents"in the Facebook post below after going through her own experience of attending a child's funeral:
Read Melissa's viral message in full here.
What idots? Well, apparently these "idiots," and they're all out to prove that the Graves are not alone and not at fault because this stuff happens to good parents tooand that's exactly the type of support that they deserve during such a tragic time.
Let us all join these moms in supporting these parents who lost their son to an accident rather than charging them with murder. As stated by Fenton:
"May the God of this universe in some miraculous way bring peace to you and your family. That is what you say. That. And just That. Stop the blaming. Stop the shaming. In their darkest hours, can we please just love other parents. Please?"
Read more: http://www.faithit.com/moms-across-america-post-chilling-photos-kids-playing-boy-killed-alligator/